Here's a secret only parents know. If you have to change everything to keep your kid healthy, you do it. People get lung cancer, heart disease, all kinds of other illnesses all the time, and they're like, "Meh…" but if a doctor said, look, the whole family has to stand on one leg for two hours every day from now on to keep your child healthy, you would all be standing on one leg. Guaranteed.
When my son was diagnosed with Type 1 Diabetes, we did all of that (not the standing on one leg – if only!!!) First, it was a chart on our fridge of what he HAD to eat at EVERY meal.
Then, we graduated to carb-counting, which is the current life-long standard. There are tons of mixed-messages in carb-counting land. "Let him eat whatever he wants, and dose for it. He's a kid!… But don't let him have fruit juice or sugar soda because you'll wind up in the hospital. Really, he can eat anything! But, this meal has 200 carbs, so be careful giving all of that insulin…" It can be super confusing.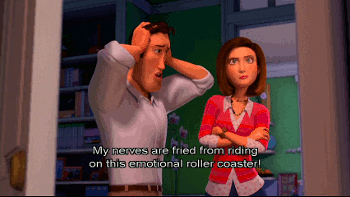 At first, I filled my pantry with dismal sugar-free stuff. This felt even worse, and, to my mind, made life harder for my son. "Here's his special candy! When everyone else has that, he can have this!" Food is communal, and these simulated foods were just exiling him further. Plus, no matter how bad something tastes, if your kid is in first grade, some other kid is going to eat it when he's not looking, or at least WANT to eat it.
Food is my best friend. Just ask my chins! Ever since I was a kid, I've loved cooking. Diabetes is heartbreaking on many levels, but this one was the thorn in my personal side. I love to cook for other people! I cook! I bake! It's my way!
This is turning into a long story, so I'll just break down my progression. We went from diet chart to meals I could calculate, which got boring fast, to the exciting part…
YouTube! You can find any way to make anything on YouTube, and I found Momof6 and FoodWishes. Those are my mainstays, and here's why I love them. Momof6 is a master of planning and organization. With her tools, I am able to look over a whole two-to-six weeks' worth of food (ALL food – snacks, school lunches, etc.), plan, and have an idea of how "glucose friendly" everything's going to be. Food Wishes, then has the best way to prepare dinners, so I can still express my love and caring.
Yesterday, I made Salmon with a sauce I can't pronounce, so I will call Butter Sauce (here's the link), knowing that with strawberries, cauliflower, and roast potatoes, everyone was going to bed on a full stomach with good numbers. Tonight will be Chicken Fried Rice (a family favorite!) And tomorrow is leftovers (surprise) because I'm making a lot of meals lately.
I know for SURE there are channels on YouTube for restricting carbs (if that's where you're at), going gluten-free, "clean," vegan, paleo – anything you want! It took me some time to curate my own preferences, but it's worth it.  I can bake my cake, and my kid can eat it, too! Love is back in the air!!
See for yourself! Happy Valentine's Day!